Deutschland-Ticket App
The RNN Deutschland-Ticket App is here. Don't wait & download it!

The RNN app as an all-inclusive care package.
Your Deutschland-Ticket…
buy

conveniently manage

and always have your "Deutschland-Ticket" with you
Your 4 steps to the D-Ticket
Depending on your device, follow the Store link and download the "RNN D-Ticket" app.

Create a user profile by providing your personal information.

Choose the ticket type and start date, make the payment and use the D-Ticket directly as a mobile ticket in the app.

Discover Germany with your "Deutschland-Ticket" right now.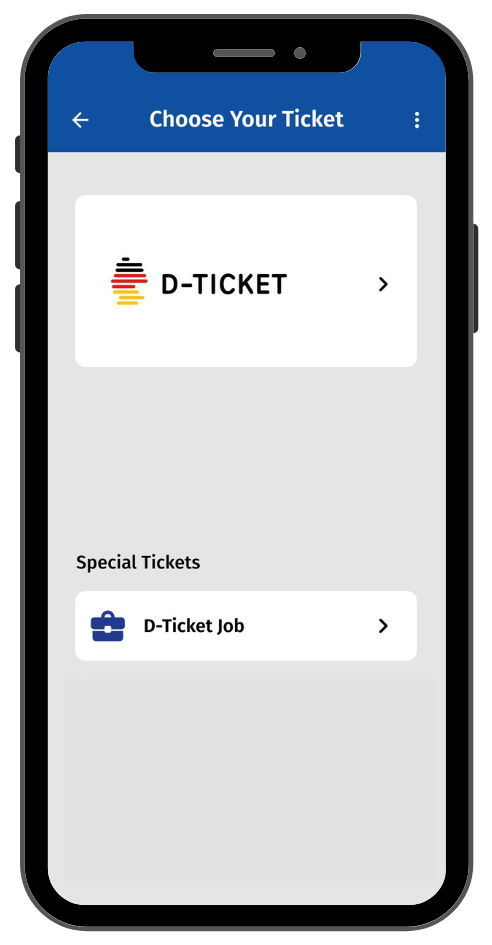 Purchasing options
In the RNN area, the D-Ticket is available for purchase at the following transportation companies:
Notice:
The D-Ticket is not available at ticket vendor & cannot be purchased there.
Digital via app on the smartphone:
Through the app "D-Ticket NVB Birkenfeld" of the local transport company Nahverkehrsbetriebe Birkenfeld
Via the "Mainzer Mobilität" app of the Mainzer Verkehrsgesellschaft (public transport company)
Via the app of the Bingen public transport company: "BIN-go mobil
Via the app "Wohin-Du-Willst" of DB Regio Bus Mitte
Via the "NETINERA -Tickets" app of Vlexx
Via the "DB Navigator
Via the "deutschlandticket.de" app of INGMobil and Trans Regio
As a chip card:
KRN Kommunalverkehr Rhein-Nahe: Order at the customer center in Bad Kreuznach or through the website.
DB Regio Bus Mitte: Order on the website of DB Regio Bus Mitte
Please note the order deadlines for issuing the chip card on the 1st of the following month:
KRN: 1 working day
DB Regio Bus Mitte: 1 working day
MVG Mainzer Verkehrsgesellschaft: by the 10th of each month
As a paper card with QR code:
The paper card can be saved as a PDF or printed out by yourself.
Ticket comparison
Do you need help deciding which ticket to buy? We'll help you find the right ticket for you.
| | Deutschland-Ticket | Compare with |
| --- | --- | --- |
| | | |
1 – Subscription prices (as of 1.1.23)
2 – With the D-Ticket, bicycles may be taken along free of charge in the RNN network area from Monday to Friday from 9 a.m. and on Saturdays, Sundays and public holidays. This regulation does not apply nationwide.
3 – With the D-Ticket, one dog may be taken along free of charge in the RNN network area. This regulation does not apply nationwide.

Excursion tips within in the transport assosciation
We will show you the best excursion destinations in the region that are easy to reach by local transportation.
Whether it's the market breakfast in Mainz, hiking in the Hunsrück-Hochwald National Park or experiencing the barefoot path in Bad Sobernheim with the kids on a sunny day. With your Deutschland-Ticket, you can travel across our RNN area and beyond.